Películas de Hayao Miyazaki, Yorgos Lanthimos, Takeshi Kitano, Hideo Nakata y J. A. Bayona se verán en la 56ª edición (5 al 15 de octubre).
-Se proyectarán además una decena de films argentinos.
Todas las películas

Sección Oficial Fantástico Competición (SOFC)

ACIDE – Just Philippot (Francia)
BEST WISHES TO ALL – Yûta Shimotsu (Japón)
CLUB ZERO – Jessica Hausner (Austria/Reino Unido)
CONANN – Bertrand Mandico (Francia/Luxemburgo/Bélgica)
CUANDO ACECHA LA MALDAD (WHEN EVIL LURKS) – Demian Rugna (Argentina)
DIVINITY – Eddie Alcazar (Estados Unidos)
EL REINO ANIMAL – Thomas Cailley (Francia)
IN FLAMES – Zarrar Khan (Canadá/Pakistán)
VIVE DENTRO – Bishal Dutta (Estados Unidos)
KUBI – Takeshi Kitano (Japón)
LA ESPERA – F. Javier Gutierrez (España)
LA MORSURE – Romain de Saint-Blanquat (Francia)
LATE NIGHT WITH THE DEVIL – Colin Cairnes, Cameron Cairnes (Australia)
LES CHAMBRES ROUGES – Pascal Plante (Canadá)
MOSCAS – Aritz Moreno (España/Argentina)
OMEN – Baloji Tshiani (Congo/Países Bajos/Francia/Bélgica/Alemania/Sudáfrica)
RIDDLE OF FIRE – Weston Razooli (Estados Unidos)
ROBOT DREAMS – Pablo Berger (España/Francia)
ROMANCE ASESINO – Lee Won-suk (Corea del Sur)
SALEM – Jean-Bernard Marlin (Francia)
SLEEP – Jason Yu (Corea del Sur)
SORCERY – Christopher Murray (Chile/México/Alemania)
STOPMOTION – Robert Morgan (Estados Unidos)
THE SEEDING – Barnaby Clay (Estados Unidos)
THE THEORY OF EVERYTHING – Timm Kröger (Alemania)
THERE'S SOMETHING IN THE BARN – Magnus Martens (Noruega)
TIGER STRIPES – Amanda Nell Eu (Malasia/Taiwan/Francia/Alemania/Países Bajos/Indonesia)
VERMIN: LA PLAGA – Sébastien Vanicek (Francia)
VINCENT DEBE MORIR – Stéphan Castang (Francia)
WAKE UP – François Simard, Annouk Whissel, Yoann-Karl Whissel (Francia)
WHITE PLASTIC SKY – Tibor Bánóczki, Sarolta Szabó (Hungría/Eslovaquia)
Sección Oficial – Sesiones Especiales

ALIENS ABDUCTED MY PARENTS AND NOW I FEEL KINDA LEFT OUT – Jake Van Wagoner (Estados Unidos)
AMELIA'S CHILDREN – Gabriel Abrantes (Portugal)
AWARENESS – Daniel Benmayor (Estados Unidos/España)
BLOOD DE BRAD ANDERSON – Brad Anderson (Estados Unidos)
EL CHICO Y LA GARZA – Hayao Miyazaki (Japón)
LA ERMITA – Carlota Pereda (España)
LA SOCIEDAD DE LA NIEVE – J.A. Bayona (España)
POBRES CRIATURAS – Yorgos Lanthimos (Reino Unido)
THE TOXIC AVENGER – Macon Blair (Estados Unidos)
UFO SWEDEN – Crazy Pictures (Suecia)
Oficial Fantástico – Especial Mitjanit

LA BALA DE DIOS – Nick Cassavetes (Estados Unidos)
THE DEEP DARK – Mathieu Turi (Francia)
Òrbita

BLACK FLIES – Jean-Stéphane Sauvaire (Estados Unidos)
CONCRETE UTOPIA – Um Tae-Hwa (Corea del Sur)
DIABOLIK: GINKO ALL'ATTACCO – Marco Manetti, Antonio Manetti (Italia)
FUERZA BRUTA: SIN SALIDA – Lee Sang-yong (Corea del Sur)
JACKDAW – Jamie Childs (Reino Unido)Ç
JERICHO RIDGE – Will Gilbey (Kosovo/Reino Unido/Irlanda del Norte)
LA EXTORSIÓN – Martino Zaidelis (Argentina)
LOS OJOS DE LA NOCHE – Ahn Tae-jin (Corea del Sur)
LUMBERJACK THE MONSTER – Takashi Miike (Japón)
MAD FATE – Soi Cheang (Hong Kong)
NIGHT OF THE HUNTED – Franck Khalfoun (Francia)
PRORIEDADE – Daniel Bandeira (Brasil)
SMUGGLERS – Ryoo Seung-wang (Corea del Sur)
THE CHILDE – Park Hoon-jung (Corea del Sur)
THE LAST STOP IN YUMA COUNTY – Francis Galluppi (Estados Unidos)
WHERE THE WIND BLOWS – Philip Yung (China/Hong Kong)
Panorama

#MANHOLE – Kazuyoshi Kumakiri (Japón)
APPENDAGE – Anna Zlokovic, Alex Familia (Estados Unidos)
BLACKOUT – Larry Fessenden (Estados Unidos)
BROOKLYN 45 – Ted Geoghegan (Estados Unidos)
EL EXORCISMO DE EASTFIELD – Nick Kozakis (Australia)
HOOD WITCH – Saïd Belktibia (Francia)
LAST STRAW – Alan Scott Neal (Estados Unidos)
LET IT GHOST – Hoi Wong (Hong Kong)
NINA DEI LUPI – Antonio Pisu (Italia)
ONYX THE FORTUITOUS AND THE LALISMAN OF SOULS – Andrew Bowser (Estados Unidos)
PROJECT SILENCE – Kim Tae-gon (Corea del Sur)
RABIA – Jorge Michel Grau (México)
RESTORE POINT – Robert Hloz (República Checa)
SUPERPOSITION – Karoline Lyngbye (Dinamarca)
THE FORBIDDEN PLAY – Hideo Nakata (Japón)
THE SACRIFICE GAME – Jenn Wexler (Canadá/Estados Unidos)
YOU'LL NEVER FIND ME – Josiah Allen, Indianna Bell, Josiah Allen (Australia)
Panorama – Fuera de Competición

CUANDO LOS AMOS DUERMEN – Santiago Alvarado (España)
IMMERSION – Takashi Shimizu (Japón)
THE PRIMEVALS – David Allen (Estados Unidos)
TOKYO REVENGERS 2: PART I – Tsutomu Hanabusa (Japón)
TOKYO REVENGERS 2: PART II – Tsutomu Hanabusa (Japón)
Noves Visions

EL DESPRECIO (4K) – Jean-Luc Godard (Francia/Italia) (Sesión Especial)
EMBRYO LARVA BUTTERFLY – Kyros Papavassiliou (Grecia/Chipre)
EN ATTENDANT LA NUIT – Céline Rouzet (Francia)
HALFWAY HOME – Madarász Isti (Hungría)
HUMANIST VAMPIRE SEEKS CONSENTING SUICIDAL PERSON – Ariane Louis-Seize (Canadá)
HUNDREDS OF BEAVERS – Mike Cheslik (Estados Unidos)
IN MY MOTHER'S SKIN – Kenneth Dagatan (Filipinas/Singapur/Taiwán)
LA ÚLTIMA NOCHE DE SANDRA M. – Borja de la Vega (España)
LUKA – Jessica Woodworth (Bélgica/Italia/Países Bajos/Bulgaria/Armenia)
MIMÌ – PRINCE OF DARKNESS – Brando de Sica (Italia)
MONDAYS: SEE YOU "THIS" WEEK! – Ryo Takebayashi (Japón)
MONOLITH – Matt Vesely (Australia)
MOON GARDEN – Ryan Stevens Harris (Estados Unidos)
MOTEL MELATI – Mike Wiluan, Billy Christian (Indonesia, Singapur)
MY ANIMAL – Jacqueline Castel (Canadá)
PANDEMONIUM – Quarxx (Francia)
RAGING GRACE – Paris Zarcilla (Reino Unido/Irlanda del Norte)
RIVER – Junta Yamaguchi (Japón)
TELA DE ARAÑA (COBWEB) – Kim Jee-won (Corea del Sur)
THE FUNERAL – Orçun Behram (Turquía)
THE INVISIBLE FIGHT – Rainer Sarnet (Estonia/Lituania/Grecia/Finlandia)
THE LAST ASHES – Loïc Tanson (Bélgica/Luxemburgo)
THE UNCLE – David Kapac, Andrija Mardesic (Serbia/Croacia)
THE VOURDALAK – Adrien Beau (Francia)
WHERE THE DEVIL ROAMS – Zelda Adams, John Adams, Toby Poser (Estados Unidos)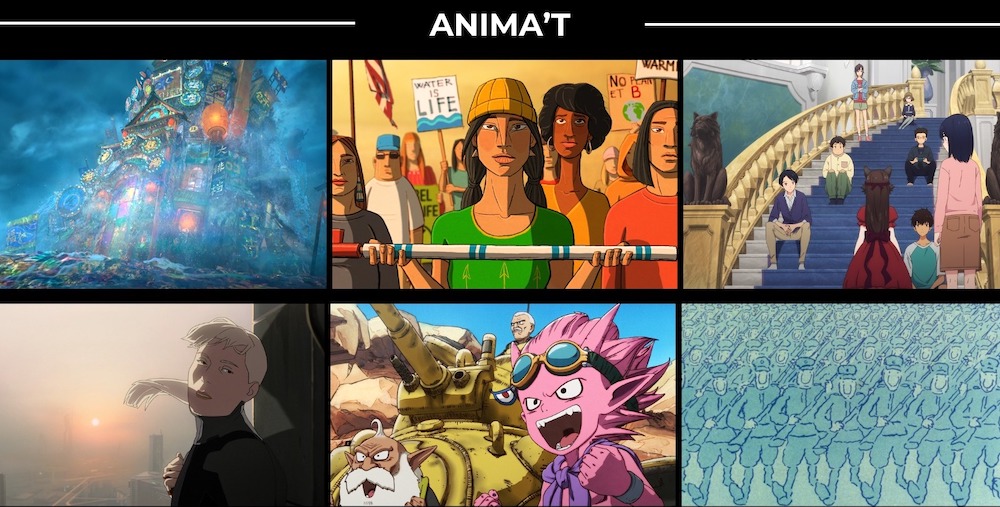 Anima't

DEEP SEA – Tianxiao Peng (China)
FOUR SOULS OF COYOTE – Áron Gauder (Hungría)
HEAVIES TENDRES – Joan Tomàs, Carlos Pérez-Reche, Juanjo Sáez (España)
KOMADA – A WHISKY FAMILY – Masayuki Yoshihara (Japón)
LONELY CASTLE IN THE MIRROR – Keiichi Hara, Takakazu Nagamoto, Keiichi Hara (Japón)
MARS EXPRESS – Jéremie Perin (Francia)
ROBOT DREAMS – Pablo Berger (España/Francia)
SAND LAND – Toshihisha Yokoshima (Japón)
TONY, SHELLY AND THE MAGIC LIGHT – Filip Posivac (República Checa/Hungría/Eslovaquia)
WHITE PLASTIC SKY – Tibor Bánóczki, Sarolta Szabó (Hungría/Eslovaquia)
Anima't – Sesiones Especiales

PHOENIX: REMINISCENCE OF FLOWER – Shojiro Nishimi (Japón)
THE FEAST OF AMRITA – Saku Sakamoto (Japón)
Anima't – Sitges Clàssics

LES MAÎTRES DU TEMPS (4K) – René Laloux (Francia/Hungría/Suiza)
THE SOLDIER'S TALE – R. O. Blechman (Estados Unidos)
100 AÑOS DE WALT DISNEY ANIMATION STUDIOS: UN HOMENAJE A SUS CORTOS – Varios Autores (Estados Unidos)
Sitges Clàssics

ACCIÓN MUTANTE – Álex de la Iglesia (España)
ANGUSTIA DEL SILENCIO – Lucio Fulci (Italia)
CALÍGULA – THE ULTIMATE CUT (4K) – Tinto Brass (Estados Unidos/Italia)
LOS NUEVOS EXTRATERRESTRES (4K) – Juan Piquer Simón (España)
EL RESPLANDOR (4K) – Stanley Kubrick (Estados Unidos)
EL EXORCISTA (4K) – William Friedkin (Estados Unidos)
ENTER THE GAME OF DEATH – Tso Nam Lee (Hong Kong)
LAKE MICHIGAN MONSTER – Ryland Brickson Cole Tews (Estados Unidos)
PSYCHIC VISION: JAGANREI – Teruyoshi Ishii (Japón)
KING KONG (1933) – Merian C. Cooper, Ernest B. Schoedsack (Estados Unidos)
EL HOMBRE DE MIMBRE (THE WICKER MAN) (4K) – Robin Hardy (Reino Unido/Irlanda del Norte)
LA MÁSCARA DEL DEMONIO – Lamberto Bava (Italia)
DRAGON LIVES AGAIN – Chi Chih Lo (Hong Kong)
MUNDO CANÍBAL, MUNDO SALVAJE – Ruggero Deodato (Italia)
THE RAID – Gareth Evans (Indonesia)
STAR TREK – THE MOTION PICTURE – THE DIRECTOR'S CUT – Robert Wise (Estados Unidos)
SIESTA – Mary Lambert (Estados Unidos)
Sitges Documenta

A DISTURBANCE IN THE FORCE – Jeremy Coon, Steve Kozak (Estados Unidos)
DARIO ARGENTO PANICO (4K) – Simone Scafidi (Reino Unido/Irlanda del Norte)
DREAM TIME – Claudio Lattanzi (Italia)
ENTER THE CLONES OF BRUCE – David Gregory (Estados Unidos)
KAIDAN. STRANGE STORIES OF JAPANESE GHOSTS – Yves Montmayeur (Francia)
KIM'S VIDEO (4K) – David Redmon, Ashley Sabin (Estados Unidos)
LIVING WITH CHUCKY – Kyra Elise Gardner (Estados Unidos)
LOCH NESS: THEY CREATED A MONSTER – John MacLaverty (Reino Unido)
MUJERES SIN CENSURA – Eva Vizcarra (España)
OTRA PELÍCULA MALDITA – Alberto Fasce (Argentina)
THE HISTORY OF METAL AND HORROR – Mike Schiff (Estados Unidos)
SATAN WANTS YOU – Sean Horlor, Steve J. Adams, Sean Horlor (Canadá)
SHARKSPLOITATION – Stephen Scarlata (Estados Unidos)
SPOOKTACULAR! – Quinn Monahan (Estados Unidos)
THE DARK SIDE OF SOCIETY – Larry Wade Carrell (Estados Unidos)
THE J-HORROR VIRUS – Sarah Appleton, Jasper Sharp (Japón, Reino Unido)
UN MILLÓN DE ZOMBIES: LA HISTORIA DE PLAGA ZOMBIE – Nicanor Loreti, Camilo de Cabo (Argentina)
YOU CAN CALL ME BILL – Alexandre O. Philippe (Estados Unidos)
Retrospectiva – Ciudad Pánico

AMENAZA EN LA SOMBRA' – Nicolas Roeg (Reino Unido)
HOLLYWOOD 90028' (4K) – Christina Hornisher (Estados Unidos)
PÁJAROS DE CIUDAD' – Jose María Sánchez Álvaro (España/Italia)
EL ALMUERZO DESNUDO' (4K) – David Cronenberg (Canadá/Reino Unido)
LA CASA SIN FRONTERAS' – Pedro Olea (España)
GOD TOLD ME TO' – Larry Cohen (Estados Unidos)
LOS ÚLTIMOS DÍAS' – Àlex Pastor, David Pastor (España)
Midnight X-Treme

ALL YOU NEED IS BLOOD' – Cooper Roberts (Estados Unidos)
KILL' – Nikhil Nagest Bhat (India)
MAD CATS' – Reiki Tsuno (Japón)
OS REVIENTO' – Kike Narcea (España)
THE WELL' – Federico Zampaglione (Italia)
THE WRATH OF BECKY' – Matt Angel, Suzanne Coote (Estados Unidos)
TRIGGERED' – Richard V. Somes (Filipinas)
WE ARE ZOMBIES'- François Simard, Anouk Whissell, Yoann-Karl Whissell (Canadá)
WINNIE THE POOH: MIEL Y SANGRE' – Rhys Frake-Waterfield (Reino Unido)
Brigadoon

IL BOSS' – Fernando Di Leo (Italia)
OTRA PELÍCULA MALDITA' – Alberto Fasce & Mario Varela (Argentina)
ALGUIEN TE ESTÁ MIRANDO' – Gustavo Cova & Horacio Maldonado (Argentina)
AUXILIO' – Tamae Garateguy (Argentina)
UN MILLÓN DE ZOMBIES: LA HISTORIA DE PLAGA ZOMBIE' – Nicanor Loretti & Camilo de Cabo (Argentina)
PLAGA ZOMBIE' – Pablo Parés & Hernán Sáez (Argentina)
LA DAMA ROJA MATA SIETE VECES' – Emilio P. Miraglia (Italia)
THORNS' – Douglas Schulze (Estados Unidos)
SHARKSPLOITATION' – Stephen Scarlata (Estados Unidos)
MONSTER HEAVEN: GHOST HERO' – Makoto Tezuka (Japón)
CUT AND RUN' – Ruggero Deodato (Italia)
MUJERES SIN CENSURA' – Eva Vizcarra (España)
TAKE A HARD RIDE (POR LA SENDA MÁS DURA)' – Antonio Margheriti (Italia)
MARIA'S STOMACH' – Hideyuki Hirayama (Japón)
LOS INVASORES DEL ABISMO' – Ruggero Deodato (Italia)
TINTORERA' – René Cardona Jr (México)
ALLA RICERCA DEL PIACERE' – Silvio Amadio (Italia)
SAMURAI NINJA ONIMANJI' – Yoshihiro Nishimura (Japón)
TIBURÓN 3 – L'ULTIMO SQUALO' – Enzo G. Castellari (Italia)
DOOR' – Benmei Takahashi (Japón)
MILÁN CALIBRE 9 (MILANO CALIBRO 9)' – Fernando di Leo (Italia)
BLOOD SUCKING TREE' – Shunji Iwai, Masaharu Ota & Akira Yoneta (Japón)
EL PANTANO DE LOS CUERVOS' – Manuel Caño (España)
THE DARKSIDE OF SOCIETY' – Larry Wade Carrell (Estados Unidos)
MARIA' – Gabriel Grieco & Nicanor Loreti (Argentina)
LA VENGANZA DE LA MOMIA' – Carlos Aured (España)
IL MUSEO DEGLI ORRORI DI DARIO ARGENTO' – Luigi Cozzi (Italia)
THE BARN PART II' – Justin M. Seaman (Estados Unidos)
OLDBOY' – Park Chan-Wook (Corea del Sur)
LA TARÁNTULA DEL VIENTRE NEGRO' – Paolo Cavara (Italia)
SANTO CONTRA LOS ZOMBIES' – Benito Alazraki (México)
HUMANOID PUPPET' – Hidehiro Ito (Japón)
Sección Oficial Fantástico Competición – Cortometrajes
ABOMINATIONS' – Mike Fontaine (Estados Unidos)
AHORA VUELVO' – Lucas Paulino y Gabe Ibáñez (España)
BLOODY FURY' – Jordan Inconstant (Francia)
CALLUS' – Ciarán Hickey (Irlanda)
ESCAPE ATTEMPT' – Alex Topaller, Daniel Shapiro (Estados Unidos/Polònia)
EYESTRING' – Javier Devitt (Estados Unidos/Argentina)
FISHMONGER' – Neil Ferron (Estados Unidos)
HITO' – Stephen Lopez (Filipines)
HONK' – Charles de Lauzirika (Estados Unidos)
I'M NOT A ROBOT' – Victoria Warmerdam (Países Bajos/Bèlgica)
INTERCANVI' – Alberto Evangelio (España)
PARAGON' – Colin Treneff (Estados Unidos)
PESUDO' – Miquel Díaz Pont (España)
STOP DEAD' – Emily Greenwood (Regne Unit)
STORM' – Lena Tsodykovskaya (Rusia)
SUGAR RAG' – Jai Love (Estados Unidos/Australia)
THE MANY WORLDS OF GEORGE GOODMAN' – Gregg Bishop (Estados Unidos)
THE SHORE' – Eron Sheean (Países Bajos/Bélgica)
Anima't – Cortometrajes

A NIGHT WITH MOOSINA' – Tsai Shiu-cheng (Taiwán)
ASTORIA' – Franck Dion (Francia)
BYE BEAR' – Jan Bitzer (Alemania)
DE IMPERIO' – Alessandro Novelli (España/Portugal)
DRIJF' – Levi Stoops (Bélgica)
EEVA' – Lucija Mrzljak, Morten Tsinakov (Croacia/Estonia)
FLITE' – Tim Webber (Estados Unidos)
GARDEN OF REMEMBRANCE' – Naoko Yamada (Japón)
GHOST OF THE DARK PATH' – Fish Wang (Taiwán)
LA GRANDE ARCHE' – Camille Authouart (Francia)
LA ÚLTIMA HISTORIA – Vicente Molina Prado (España)
NEZUMIKOZO JIROKICHI' – Rintaro (Japón)
NO ROOM AT THE INN' – R. O. Blechman (Estados Unidos)
RADIO-PILOTIS' – Sonia Gerbeaud (Francia)
SWEET LIKE LEMONS' – Jenny Jokela (Finlandia)
THE SMILE' – Erik van Schaaik (Países Bajos/Bélgica)
TO BIRD OR NOT TO BIRD' – Martín Romero (España)
Noves Visions – Cortometrajes

A KIND OF GIRL WHO KNOWS BLANCHE' – Seyoung Lee (Corea del Sur)
COLLECTION OF EXTREMELY SHORT STORIES' – Pedro Fraga Villaça (Brasil)
CULTES' – David Padilla (Francia)
DAYS OF SPRING' – Arianne Hinz (Países Bajos)
GABLE' – Theo Taplitz (Estados Unidos)
HALF-DREAM' – Jan Grabowski (Polonia)
MOTHERS & MONSTERS' – Edith Jorisch (Canadá)
PRUNING' – Lola Blanc (Estados Unidos)
RETRODREAMING' – Alisa Berger (Alemania, Japón)
SPOOR' – Statten Roeg, Sunita Soliar (UK, Irlanda del Norte, México)
THE OLD YOUNG CROW' – Liam LoPinto (Japón/Estados Unidos)
WE ARE ANIMALS' – Frank Wever (Países Bajos)
ZERO AT THE BONE' – Erin Grant (Estados Unidos)
Noves Visions – Sesiones Especiales

PRINT THE LEGEND' – Victor Matellano (España)
MAMANTULA' – Ion de Sosa (España)
Premio Brigadoon Paul Naschy

ZUIGER' – Steve Oen (Países Bajos)
MY DREAMS HAVE BEEN DARK OF LATE' – Joshua Warren (UK)
L'ISOLA DEL RESUSCITATI MORTI' – Domenico Montixi (Italia)
EL PADRASTRO' – José Casas Arévalo (España)
THE FLEDGLING' – Joe Gietl (Estados Unidos)
MÁS ESPESO QUE LA SANGRE' – Joaquín Campos Astroza (Chile)
LA OTRA HERMANA' – Abril Dores, Malena Martins Yanz (Argentina)
THE NIGHT HUNTER' – Paulo Leite (Portugal)
KNOCK KNOCK' – Marli Lee (Estados Unidos)
ELLOS' – Néstor López, Óscar Romero (España)
Nueva Autoría

NOT YET' – Pau Ballesté Aguirre, Maria Bros Carrera, Jorge Librero Cano (España)
EL ÚLTIMO RECUERDO' – Javier Sáez (España)
LOS FRUSTRADO' – Martí Rovira Cortada (España)
TENEMOS PATRIA' – Mikel Garrido Linares (España)
O QUE ME PARTA UN RAYO' – Karen Joaquín (España)
TIET' – Iris Dalmau (España)
LIFETIME' – Ariadna Puigdemasa (España)
FUEGO AMIGO' – Asha Ruiz (España)
CALIFORNIA' – Albert Mariné (España)
THE SUN THIEF' – Joan Cerdà Montero i Maria Agustina Montaña (España)
Sesiones Especiales

ALEXX196 & LA PLAGE DE SABLE ROSE' – Loïc Hobi (Suiza)
DARK CELLS' – Jean-Michel Tari (Francia)
LA LEY DEL MÁS FUERTE' – Raul Monge (España)
PARADERO 893' – Marc Martínez (España)
TOOTH' – Jillian corsie (Estados Unidos)
VENUS' – Jolan Nihilo, Mickaël Dusa (Francia)
Seven Chances
The Appointment (Lindsey C. Vickers, 1981), presentada por Andreu Marves.
Los leprosos y el sexo (René Cardona, 1970), presentada por Ignasi Franch.
The McPherson Tape (Dean Alioto, 1989), presentada por Javi Parra.
O-Bi O-Ba. The End of Civilization (Koniec Cywillizacj) (Piotr Szulkin, 1985), presentada por Aarón Cabañas.
Twilight (Szürkület) (György Féher, 1990), presentada por Violeta Kovacsics.
La última Señora Anderson (Eugenio Martín, 1971), presentada por Marla Jacarilla.
La venere d'ille (Mario Bava, Lamberto Bava, 1981), presentada por Antonio José Navarro.
MÁS ANUNCIOS

Cinco nuevos premiados
-Hideo Nakata, director japonés de THE RING (EL CÍRCULO
-Phil Tippet, creador de la descomunal MAD GOD y ganador de dos Oscar por su trabajo como supervisor de efectos visuales en EL RETORNO DEL JEDI y JURASSIC PARK
-Jan Harlan, productor capital en la construcción de la legendaria obra de Stanley Kubrick desde LA NARANJA MECÁNICA hasta EYES WIDE SHUT
-J. A. Bayona recibirá el Premio Màquina del Temps y presentará LA SOCIEDAD DE LA NIEVE
-Lee Unkrich, director y animador responsable de algunos de los mayores éxitos de Pixar como TOY STORY 3' o COCO
Jurados
El jurado de la Sección Oficial estará formado por el músico, director artístico y productor francés Jérome Paillard, la actriz española Ana Torrent, el director y productor estadounidense David C. Fein, el crítico de cine y escritor británico Kim Newman y la crítica australiana Alexandra Heller-Nicholas. En cuanto al jurado Noves Visions / Anima't, las tres personas elegidas han sido: la actriz y directora artística Katharina Kubrick, el artista multidisciplinar y director catalán Sergio Caballero y el fundador de la consultora cinematográfica Moebius Entertainment y miembro de la Hong Kong Films Critics Society Fred Tsui. El productor suizo Max Karli, la directora de comunicación y actividades de la SGAE en Cataluña Agnela Domínguez y la crítica de cine Júlia Olmo serán las encargadas de dar los premios de la sección Òrbita. El premio Méliès d'Or, otorgado por el jurado de la crítica, estará compuesto por los críticos españoles Francesc Miró, Antoni Peris e Ylenia Cañadas, mientras que el jurado Méliès d'Argent lo formarán el crítico y periodista británico Matthew Turner, la crítica y escritora canadiense Alexandra West y la escritora irlandesa Maura McHugh.